From July 3 to 5, Hanking Group Chairwoman Yang Min, Hanking Microelectronics President Huang Xiangxiang, and Hanking Group Vice President Mr. Chen Zhe led the marketing and technical department personnel to participate in the Shanghai National Convention and Exhibition Center "2020 Munich Shanghai Electronics Show (Electronica China 2020)".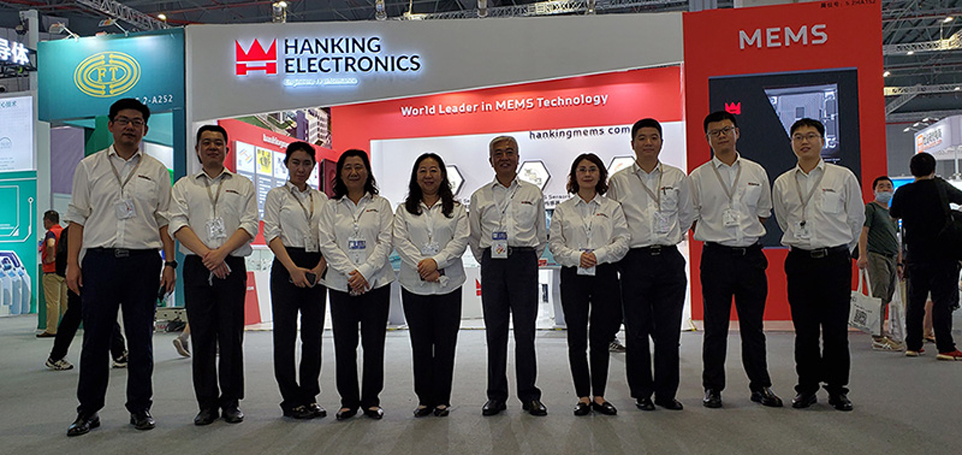 As the "Electronic Industry Weathervane", the Munich Shanghai Electronics Show concentrated on displaying the most cutting-edge products and technologies in the current electronics industry, including semiconductors, sensor technology, and micro-nano systems. Nearly 1,373 exhibitors and 81,126 professional visitors gathered together.
The Hanking Microelectronics booth covers an area of 72 square meters and is located in Hall 5.2-Booth A152. It showcases the business model of "IDM (Integrated Device Manufacture) + customized OEM" of Hanking Microelectronics, which can provide customers with "One-stop MEMS chip solution" (Turnkey MEMS Solution), including chip design, product development, wafer manufacturing, packaging and testing and system integration of the entire industry chain services. In particular, the innovative model of "customized foundry" enables Hanking Microelectronics' strong MEMS chip research and development capabilities and wafer manufacturing capabilities to directly serve upstream design companies and downstream terminal customers, and can be based on the customer's preliminary design or detailed parameters Demand, to customize the development process, design the chip and scale production.
In terms of exhibits, Hanking Microelectronics displayed 8-inch MEMS wafers, MEMS chips such as gyroscopes, IMU inertial measurement units, pressure sensors, modular products such as MTIM motion tracking modules, and specific application cases such as mobile phones and automotive electronics. The company's supply capability across the entire industry chain has been improved.
The epidemic that broke out at the beginning of the year has had some impact on the development of the electronics industry this year, but more of it has brought new development opportunities! As a world-class and domestic leading MEMS chip design and manufacturing company, Hanking Microelectronics has attracted the attention of upstream and downstream customers in the domestic MEMS industry. Electronic technology is in a period of steadily rising of vigorous development. R&D and innovation are important tasks for enterprises to pursue rising development, and cross-border cooperation and technological integration are the inevitable trends of the development of the entire industry.
In this exhibition, Hanking Microelectronics received thousands of visitors, especially among the representatives of many well-known domestic companies in the fields of consumer electronics, communication electronics and new energy vehicles. They also proposed customized chip design and mass production. The supply service expresses very much recognition and intends to form strategic cooperation in the future. At the same time, due to the long-term lack of support for domestic MEMS large-scale production lines, domestic MEMS design companies have also expressed strong demand for the Foundy foundy business of Hanking Microelectronics.